Crockpot Hot Chocolate is the easiest way to make a big batch of rich, decadent hot cocoa for a crowd, right in the slow cooker...and four flavor variations make it extra yummy!

Living in Texas, weather-appropriate Christmas attire often means shorts and t-shirts in place of warm boots and sweaters. But with the big day right around the corner, we can officially get excited that this Christmas Eve and Christmas Day are actually going to be chilly! Now, we're not talking the great Snow-pocolypse we experienced a few weeks ago...but we are talking overnight temps that dip to freezing (and I'll take it). So bring on a yule log for the hearth, footed fleece PJs for toasty toes, and a big ol crock pot full of homemade Crockpot Hot Chocolate for warm and happy tummies!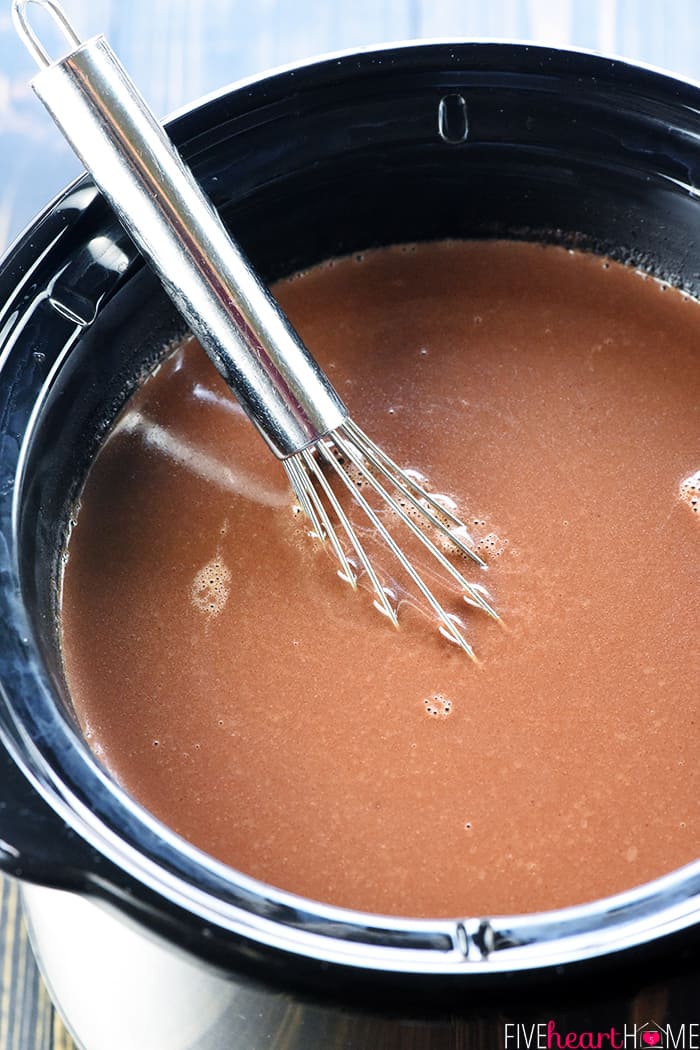 Holiday festivities aside, this recipe would be perfect for any large group or winter gathering. You can make a regular batch in a 3-quart slow cooker or a jumbo batch in a 6- to 7-quart slow cooker. At any rate, it's simple to assemble and out-of-this-world delicious!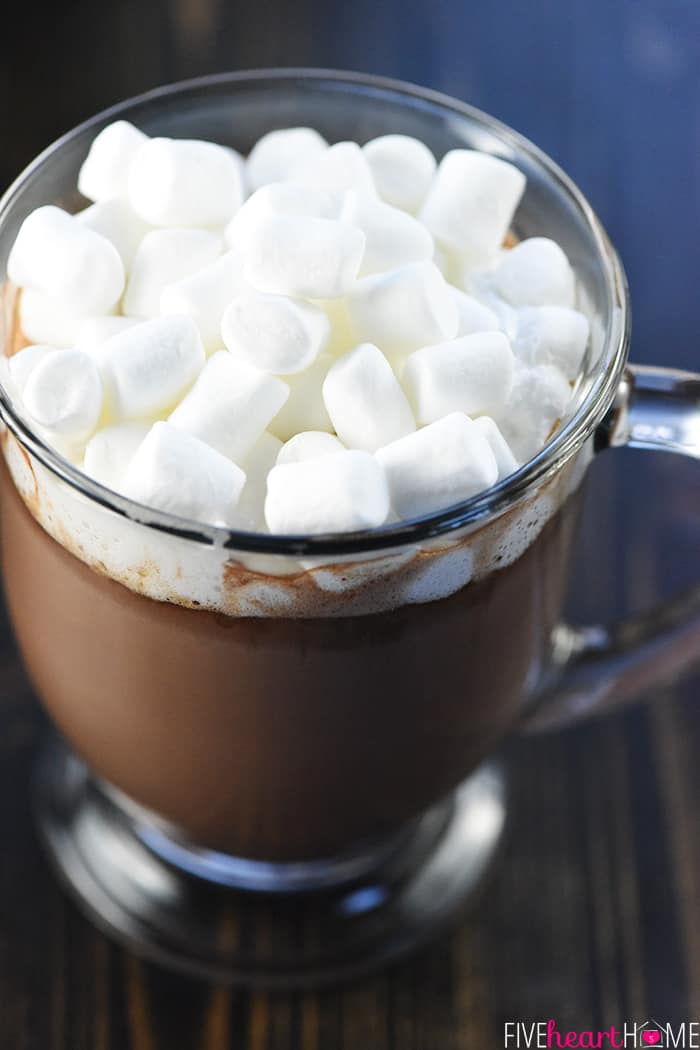 Ingredients
Like any good homemade hot cocoa, this Crockpot Hot Chocolate starts with real chocolate. I like a combo of milk chocolate and semi-sweet chocolate for just the right balance, but you can adjust the ratio to your liking. And since this is a not-everyday indulgence around here, I prefer chopping up a few bars of good-quality chocolate for the best flavor and smoothest, creamiest beverage.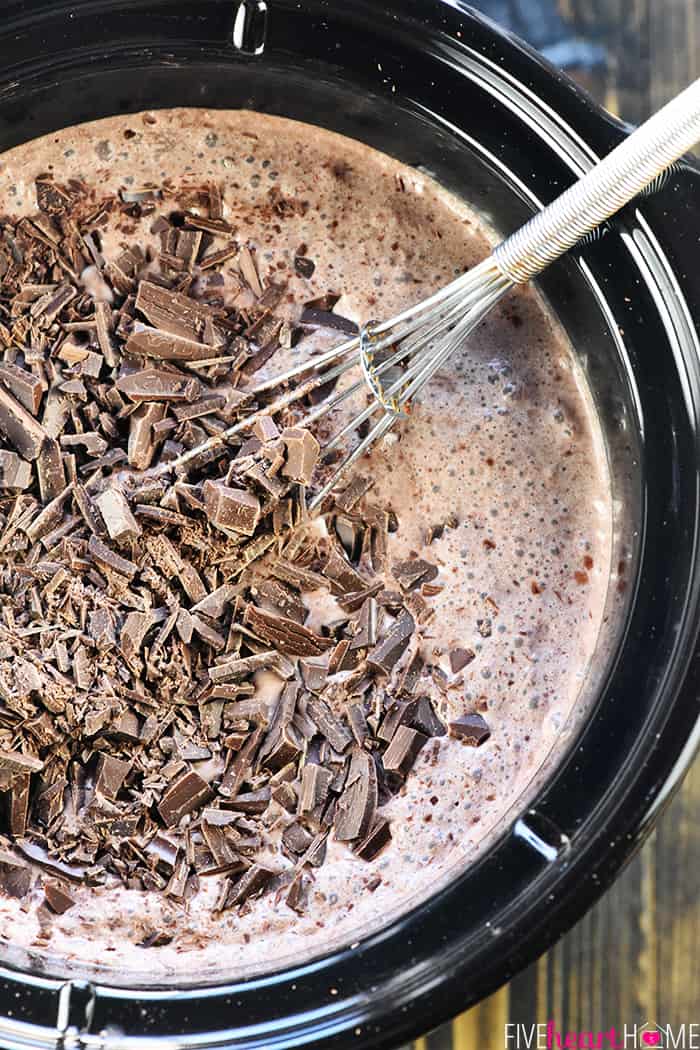 In addition to real chocolate, this recipe also includes cocoa powder for even deeper chocolate flavor.
A blend of whole milk and heavy cream result in a texture that's both thick and silky.
And finally, a splash of pure vanilla extract adds a delicious undertone that puts this warm beverage over the top!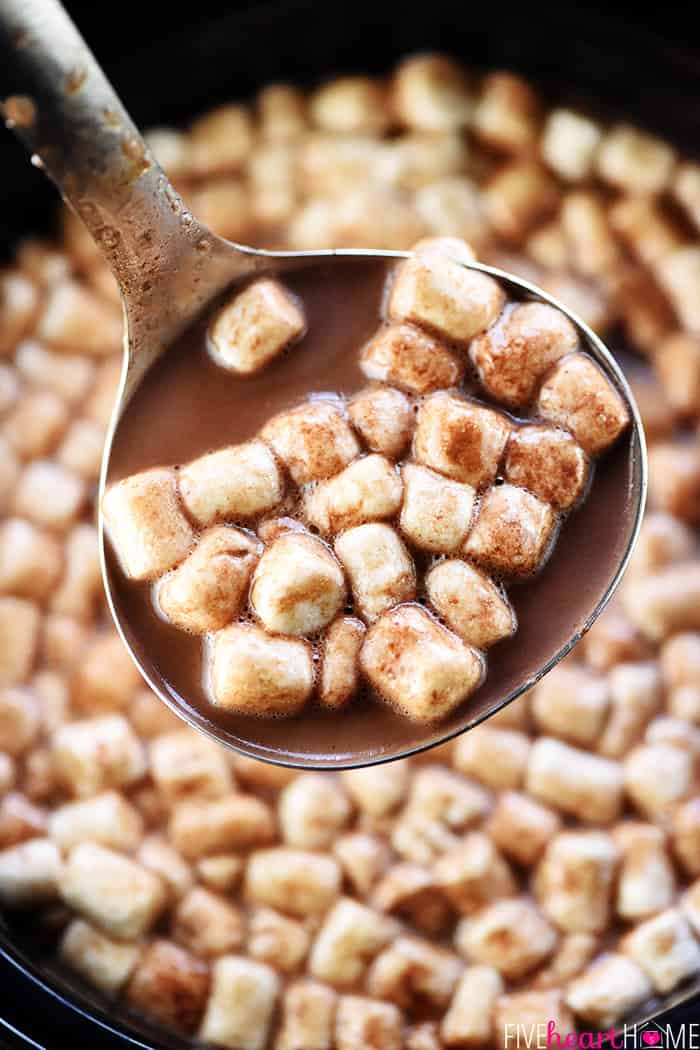 Other Flavor Ideas
What's even more fun about this slow cooker hot chocolate recipe is that you can add a few extra ingredients to turn decadent-yet-ordinary hot cocoa into a true gourmet treat. I've got a few ideas for y'all below, but the possibilities are truly endless!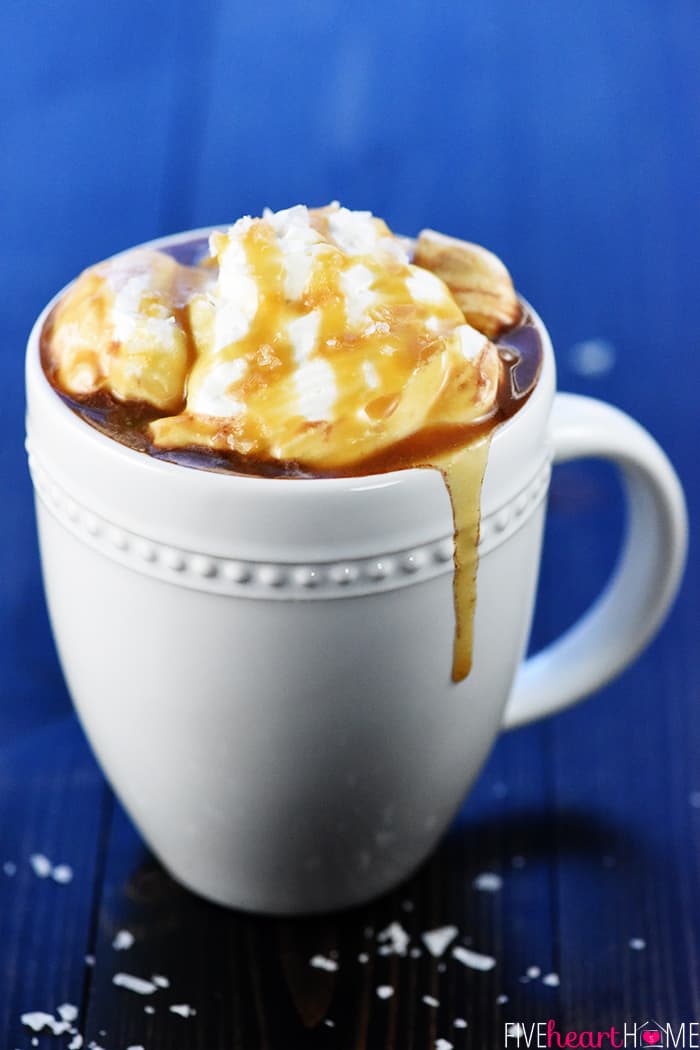 Salted Caramel Hot Chocolate
Make a batch of Crockpot Hot Chocolate as directed, and then stir in ½ cup caramel sauce (this 5-Minute, 5-Ingredient Homemade Caramel Sauce is my favorite!) and ¼ teaspoon fine sea salt until dissolved and fully incorporated (feel free to add more caramel and/or salt, to taste).
Garnish with fresh whipped cream, a drizzle of caramel sauce, and flakes of sea salt.
Or if you prefer plain ol' caramel hot chocolate, just leave out the salt. 😉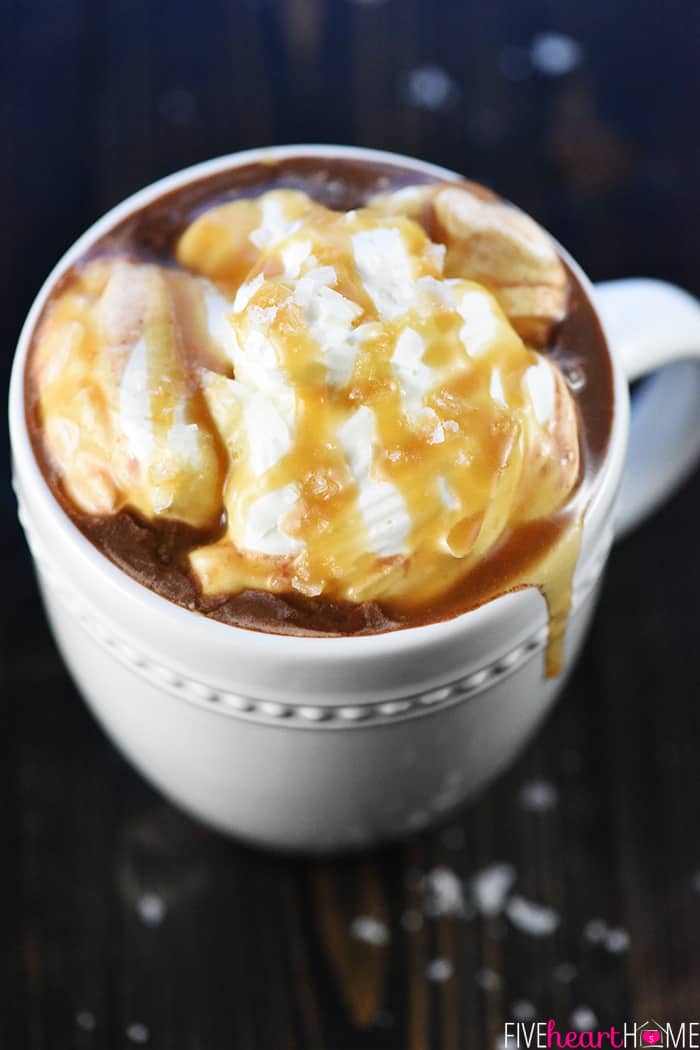 Peppermint Hot Chocolate
Add your ingredients to the slow cooker along with ½ teaspoon pure peppermint extract.
After the Peppermint Hot Chocolate is finished cooking, taste and add extra peppermint extract if desired, ¼ teaspoon at a time. Be careful and add gradually, tasting in between, as peppermint extract is very strong and can go from the perfect amount to way too much very quickly!
Garnish with peppermint marshmallows or fresh whipped cream and crushed candy canes.
Pssst...for a boozy version, swap out the peppermint extract for peppermint schnapps...add ½ cup schnapps at a time until it tastes just right! You'll probably end up needing around 1 cup total.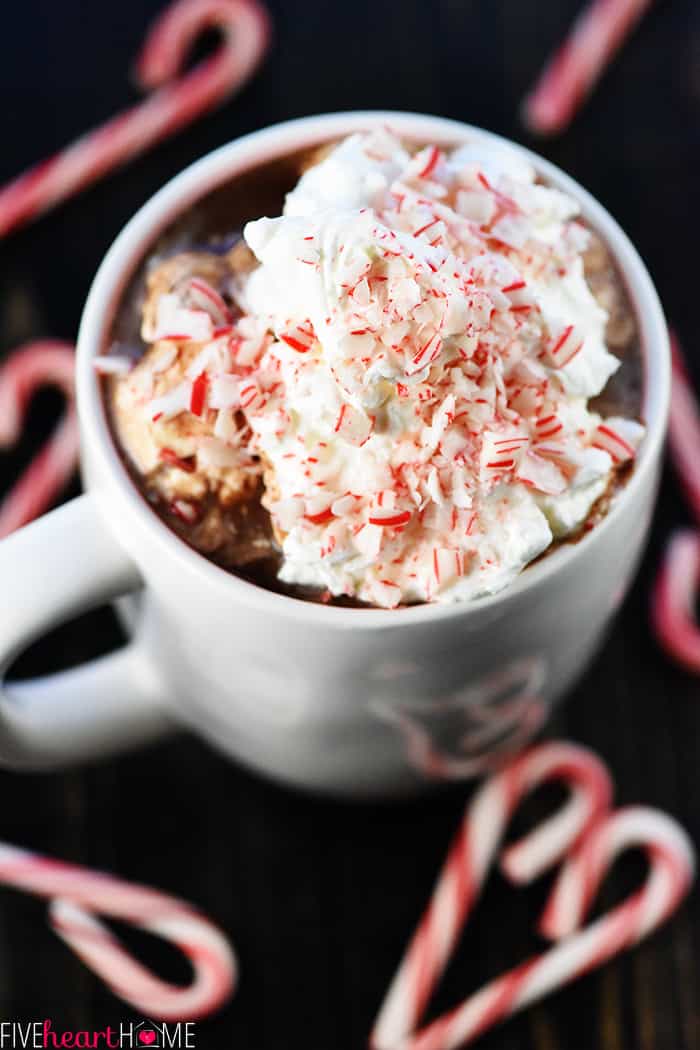 Mexican Hot Chocolate
Add ingredients to the crockpot along with 1 tablespoon instant espresso powder, 1 teaspoon ground cinnamon, and ¼ teaspoon ground nutmeg.
If you have Mexican vanilla, use it in place of regular vanilla extract.
And for a little heat, add ⅛ teaspoon chipotle chile pepper powder at a time until you're happy with the level of smoky spice. You can even stir in a little Kahlua for an adults-only treat! Garnish with cinnamon sticks.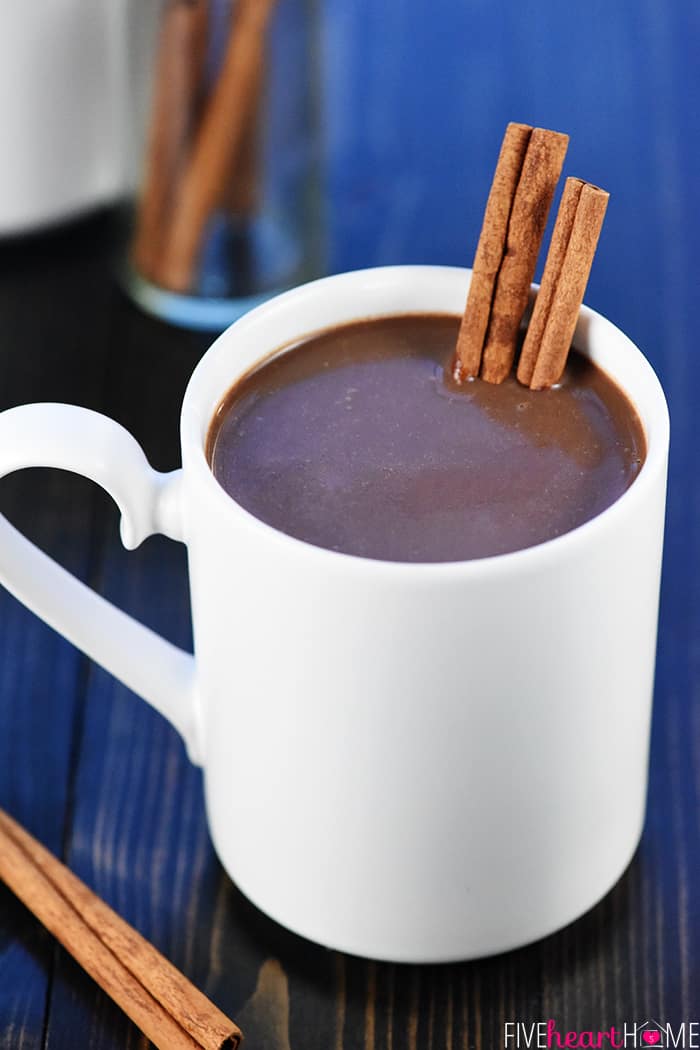 So who has other flavor ideas to share with the rest of us? Because I'm thinking my family is going to enjoy Crockpot Hot Chocolate at least a few more times before the winter is through... 😉
Wishing you all a warm weekend and a very Merry Christmas!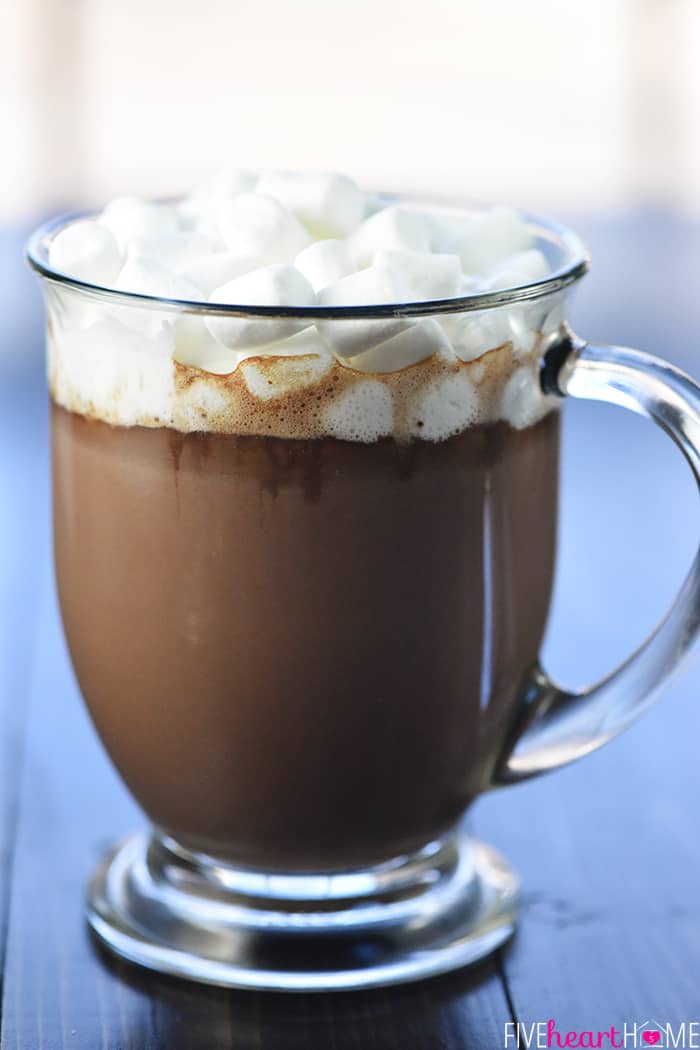 Helpful Tips, Tricks, & Equipment
Chocolate chips would totally work in place of chopped chocolate. However, because there are stabilizers added to the chips to help them hold their form, your hot chocolate may not turn out quite as smooth as if you make it with pure chocolate.
You may use either regular or Dutch-processed cocoa powder in this recipe. I'm partial to Rodelle Gourmet Baking Cocoa...it's amazing.
In case you're whipping up some Mexican hot chocolate, this is the chipotle chile pepper powder to which I'm referring.
Half-and-half is really just half milk and half heavy cream...so if you don't have half-and-half on hand, you may make this recipe with 5 cups whole milk and 1 cup heavy cream instead (for an equivalent ratio). You can actually make this recipe as light or as decadent as you prefer by adjusting the amount of milk and half-and-half (or heavy cream), or even using an alternative milk (2% or almond milk or whatever you like). And if you find your Slow Cooker Hot Chocolate to be too rich or sweet once it's all finished, you can always stir in a bit of extra milk.
This recipe will fit in a 3-quart slow cooker. You may double the recipe for a large (6- to 7-quart) slow cooker.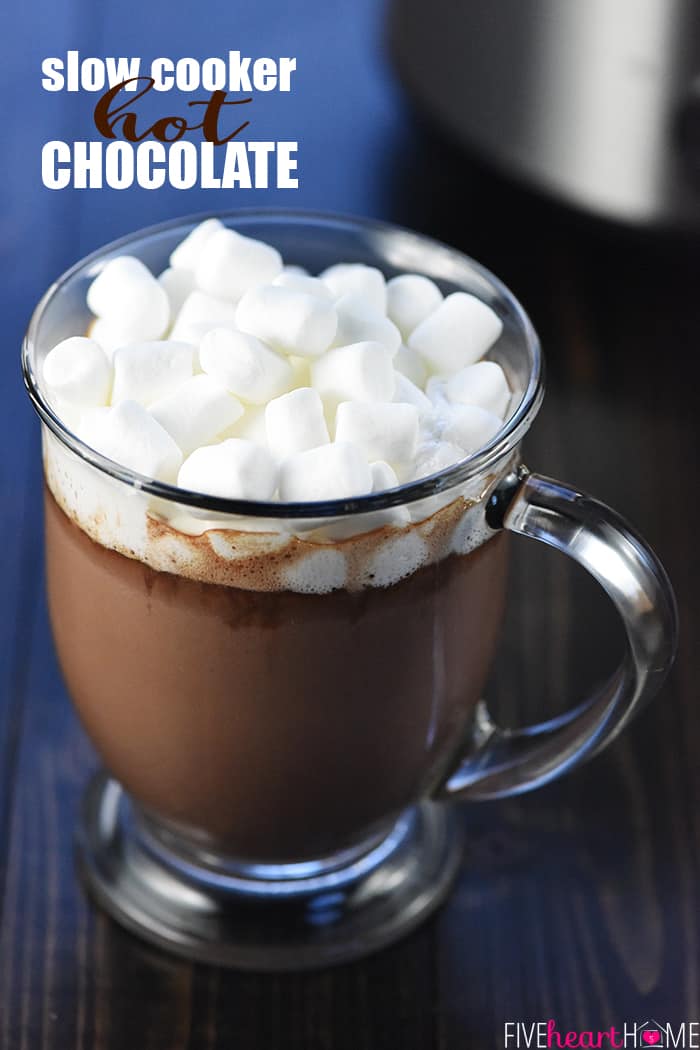 More Warming Winter Beverages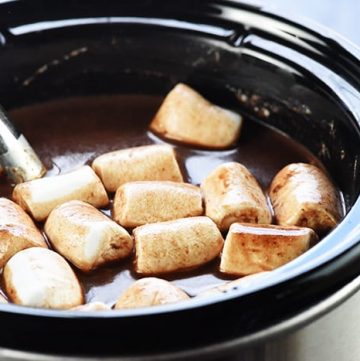 Crockpot Hot Chocolate
Crockpot Hot Chocolate is the easiest way to make a big batch of rich, decadent hot cocoa for a crowd in the slow cooker...plus FOUR flavor variations make it extra yummy!
Print
Pin
Rate
Ingredients
¾

cup

sugar

6

tablespoons

cocoa powder

4

cups

milk

2

cups

half-and-half

1

teaspoon

pure vanilla extract

3

ounces

semisweet chocolate

,

finely chopped

3

ounces

milk chocolate

,

finely chopped

Marshmallows and/or fresh whipped cream

,

for serving
Instructions
In a 3-quart (or larger) slow cooker, combine the sugar, cocoa powder, milk, half-and-half, and vanilla. Whisk until all of the cocoa powder is dissolved and fully incorporated. Stir in the chopped chocolate.

Cover and cook on LOW, whisking every 45 minutes, for a total time of 2 to 3 hours (cook until all of the ingredients are melted and well-combined and the drink is hot). Reduce the heat to WARM while serving. Garnish with marshmallows or whipped cream.
Notes
ADDITIONAL FLAVOR VARIATIONS
Salted Caramel Hot Chocolate: Make a batch of Crockpot Hot Chocolate as directed. Stir in ½ cup caramel sauce + ¼ teaspoon fine sea salt until dissolved and fully incorporated (feel free to add more caramel and/or salt, to taste). Garnish with fresh whipped cream, a drizzle of caramel sauce, and flakes of sea salt. (Or if you prefer plain ol' caramel hot chocolate, just leave out the salt. Peppermint Hot Chocolate: Add ingredients to the crockpot along with ½ teaspoon pure peppermint extract. After the Peppermint Hot Chocolate is finished cooking, taste and add extra peppermint extract if desired, ¼ teaspoon at a time. Be careful and add gradually, tasting in between, as peppermint extract is very strong and can go from the perfect amount to way too much very quickly! Garnish with peppermint marshmallows or fresh whipped cream and crushed candy canes. (For a boozy version, swap out the peppermint extract for peppermint schnapps…add ½ cup schnapps at a time until it tastes just right! You'll probably end up needing around 1 cup total.) Mexican Hot Chocolate: Add ingredients to the crock pot along with 1 tablespoon instant espresso powder, 1 teaspoon ground cinnamon, + ¼ teaspoon ground nutmeg. If you have Mexican vanilla, use it in place of regular vanilla extract. Garnish with cinnamon sticks. (For optional heat, add ⅛ teaspoon chipotle chile pepper powder at a time until you're happy with the level of smoky spice. And for a boozy version, you can even stir in a little Kahlua.)
Calories:
351
kcal
|
Carbohydrates:
41
g
|
Protein:
7
g
|
Fat:
19
g
|
Saturated Fat:
11
g
|
Cholesterol:
35
mg
|
Sodium:
81
mg
|
Potassium:
388
mg
|
Fiber:
3
g
|
Sugar:
34
g
|
Vitamin A:
412
IU
|
Vitamin C:
1
mg
|
Calcium:
215
mg
|
Iron:
2
mg