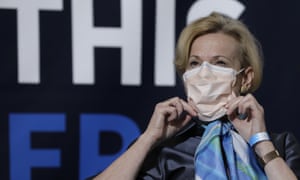 Dr Deborah Birx, coordinator of the White House coronavirus task force, has appeared on CNN's State of the Union. She said that Covid-19 has taken a hold over large parts of the US, and is no longer restricted to large cities as was the trend in the early stages of the pandemic.
"What we are seeing today is different from March and April. It is extraordinarily widespread. It's into the rural as equal urban areas," Birx said.
She also warned people who have been to areas hit hard by the disease, such as Florida, to "assume you're infected."
Birx said she had been to 14 states in the last three weeks as part of her job, and had witnessed how Americans are continuing to travel across the country, potentially spreading the virus. "I can tell you across America right now, people are on the move," she said.
More than 150,000 people have died in America due to Covid-19. According to Yahoo News, the Centers for Disease Control forecast earlier this week that the death toll could rise as high as 182,000 by 22 August.
Good morning. The main news is that Republicans have decided the press will be barred when Donald Trump is formally declared the party's nominee for president later this month.
"Given the health restrictions and limitations in place within the state of North Carolina, we are planning for the Charlotte activities to be closed [to] press Friday, August 21–Monday, August 24," a convention spokeswoman said.
"We are happy to let you know if this changes, but we are working within the parameters set before us by state and local guidelines regarding the number of people who can attend events."
The Associated Press's White House correspondent, Zeke Miller, has called the decision "ill-advised", while veteran CNN host Wolf Blitzer called the decision to bar the press from a major part of the country's democratic process "unthinkable".
In a sign that the backlash may have got to the GOP, Miller later reported that "the decision is not final and that they are still working through press coverage options. Hopefully they'll give the American people the access they deserve."